https://www.datawrapper.de/_/svSud/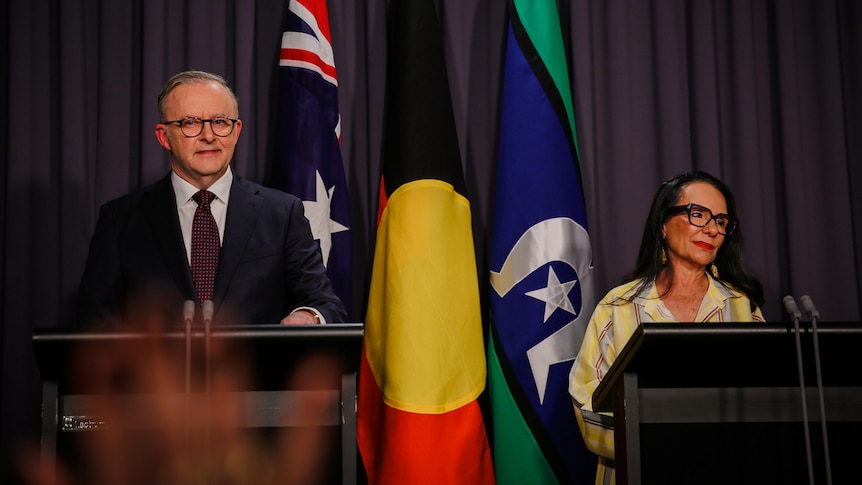 For Indigenous Australians who supported an Indigenous Voice to Parliament, the comprehensive loss of the 2023 referendum — its defeat in every state as well as nationally — is so much more than just a political loss.
As the Uluru Statement from the Heart said, it was an invitation to the rest of us for a better future: a coherent articulation by First Nations people, one which had been embraced and considered by more of them than anything said previously, of a view to the future which swallowed everything that had happened in the past, and asked for very little.
And we rejected it. The reckoning of why that happened will go on for a long time. Politics will move quickly to shape and blame the reckoning: largely a brawl between white people.
But pause briefly before that happens to consider the pain of that rejection.
A vote against 'activists'
It took very little time before not only the idea of the Voice was being consigned to history but the people behind it were being diminished by opponents.
The former prime minister Tony Abbott was one of the first to say this was not a vote against Aboriginal people but against "activists" — a line taken up repeatedly by Opposition Leader Peter Dutton and his Indigenous Affairs spokeswoman Jacinta Nampijinpa Price.
It is a term designed to not just delegitimise the people — and particularly Indigenous leaders — who advocated for the Voice but to somehow suggest they were outsiders from the start with no clear mandate.
In fact, those people now being dismissed as "activists" — and the work they produced at Uluru — were part of a process that had been set up by the then prime minister and opposition leader in 2015 to "advise the government on steps towards a referendum".
While the Uluru Statement had a rough path from the start, it produced a new generation of Indigenous leaders who have advocated its cause with dignity and grace, in the face of increasing appalling abuse and racism.