Paul McNamee in The Age, 15 January 2022, where the title reads "Djokovic an easy target in anti-vaxxer witch hunt"
Clearly, the outcome of the Federal Court case on Sunday has implications for Novak Djokovic. How about for the Australian Open?
The Australian Open is far and away Australia's biggest international sporting event. Hosting all the world's best tennis players in arguably the best sporting precinct in the world, it generates close to one billion dollars in economic impact for the state of Victoria. It puts Melbourne front and centre on the world stage for two weeks but, this year, for all the wrong reasons.
Global news networks have reacted to news from Australia on Novak Djokovic being declared a risk to civil order and public health. Video by Tom Compagnoni.
The No.1 men's player in the world and nine-time champion is scheduled to begin the defence of his Australian Open title on Monday. In the Federal Court, he is facing deportation for three years. For me, perhaps sending home one of the best athletes in the world boils down to the simple reason that it is now known he is not vaccinated, and being such a public figure, it made him an easy target. Otherwise, there never would have been what seems to be a witch hunt.
When he boarded the plane for that long flight to Australia, he had every reason to believe he was entitled to enter. Yet, unlike the other players and officials who had arrived before him with the same medical exemption (including, in my view, the very poorly treated Czech player Renata Voracova), he was the one singled out to be detained. The one positive is that the location of his detention shone a light on the treatment of refugees.
It's important to note the federal government has now accepted his medical exemption is valid, that there is only negligible health risk, and further stating in court documents he is a "person of good standing known for his philanthropy".
For the record, if you have the same medical exemption here in Victoria as Djokovic, you can get a job at Woolies, or can work at or attend the Australian Open. The new court case will be based on entirely new grounds, with the Immigration Minister saying that "as a high profile un-vaccinated individual … Mr Djokovic's ongoing presence in Australia may lead to an increase in anti-vaccination sentiment in the Australian community, potentially leading to an increase in civil unrest of the kind previously experienced in Australia with rallies and protests which may themselves be a source of community transmission".
People are saying he is getting special treatment because he is Novak Djokovic, when in fact it's the opposite, as now it's only because he is a high-profile and "influential" person that he is facing deportation.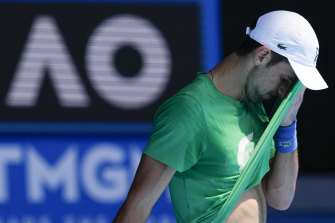 Djokovic is not an "anti-vaxxer", which has been widely reported. He has openly said his children get various vaccines. Generous to a fault, he has personally donated millions of dollars to hospitals and causes struggling under the burden of COVID-19 in Serbia, Spain and Italy. He set up and paid for free vaccinations at two ATP and one WTA tournament (on his property) in Belgrade, so players and coaches could be double vaccinated, as many were. Who knew that?
He knows from his own experience with allergies and diet that, in many ways, you are what you digest. Simply put, he wants the final say about what enters his body. As the No.1 in a highly competitive global sport, who can blame him? So, what he is actually is pro-choice.
On the other hand, Djokovic, after learning he was positive, albeit masked and social distancing, was nonetheless rash when he did a one-on-one interview on December 18. However, he publicly has regretted and owned that mistake and in doing so, cannot be said either to encourage non-compliance. I'll add this. For a very long time, he didn't even want to disclose his status. That's hardly a forthright position for someone alleged to be an anti-vaxxer.
The facts are that Djokovic, a complex, holistic and deeply spiritual man, was put in detention just in time for Orthodox Christmas. He chose not to take his "bat and ball" (actually racquet) and go home but, armed with resources unavailable to the average man, he dared to take on the government in the Federal Court, and won.
Now he is facing another court case, on entirely different grounds. He could have said it's all too hard, cut a deal, so there would be no further detention or long-term consequences, and got out of Australia pronto. He has chosen to stand his ground and take on the fight, and is again detained, on the eve of his first-round match. I respect him greatly for that.
RELATED ARTICLE
I also respect that he fights for the rights of lower-ranked players to make a better living. He is popular in the locker room, and since this saga began, I have run into many players, male and female, and especially the lower ranked, who deeply appreciate the efforts he makes on their behalf: "Without Novak, we have no voice. He is our friend."
The Australian Open has been engulfed and paralysed by this fiasco. Having once been the tournament director for 12 years, and knowing the enormous contributions of so many, I am not happy that it is being subject to ridicule, given, for example, the so-described "temporary draw". At least five players do not know who their opponent is, and one potential lucky loser, plus Djokovic, do not even know if they're playing at all. How do they prepare for their matches, some of which are on Monday? It's not a good look for the tournament.
The facts are that Djokovic came to Australia with one sole aim, to try and defend his Australian Open title. Agree with him or not, and unpopular as he is here, it is accepted he met the rules.
So, he sits detained with the threat of immediate deportation for three years. It might as well be for life, as why would he ever come back?
 Paul McNamee won the Australian Open doubles title twice, was a semi -finalist in the singles, and tournament director for 12 years.
News, results and expert analysis from the weekend of sport sent every Monday. Sign up for our Sport newsletter.