"Dheepan" is one of 19 films in competition for the Cannes Film Festival's Palme d'Or top prize,  to be awarded on Sunday. The story of Dheepan is that of  a former fighter in the Sri Lankan civil war trying to make a new life in France with a fake family.
"Dheepan" by one of France's most acclaimed film directors, Jacques Audiard,
tells the story of the  war-scarred title character meeting a young woman and a nine-year-old girl in a refugee camp. In order to win passage to France, they assume the identities of a dead family to use their travel papers.
The Film appears to have received wide acclaim and is featured in several media reports, including the Guardian, Washington Times and The Daily Mail. 
London's
Evening Standard newspaper
called it
an "intense thriller that goes to the heart of the immigrant crisis".
And cinema trade magazine
Screen International
said the picture offers "the pleasures of captivating storytelling with an irresistible human pulse"
Sri Lankan immigrant drama 'Dheepan' finds a home at Cannes
From left, actor Jesuthasan Antonythasan, director Jacques Audiard, actress Claudine Vincent Rottiers and actress Kalieaswari Srinivasan pose for photographers during a photo call for the film Dheepan, at the 68th international film festival, Cannes, southern France, Thursday, May 21, 2015. ..by JAKE COYLE – Associated Press – Thursday, May 21, 2015
CANNES, France (AP) – Before making the Sri Lankan immigrant drama "Dheepan," French director Jacques Audiard acknowledged he couldn't have even found his characters' native country on a map. Audiard premiered "Dheepan" on Thursday at the Cannes Film Festival where critics warmly greeted the latest from the director of the Oscar-nominated "A Prophet" and the acclaimed "Rust and Bone." "Dheepan" is about a former militant, a woman and a young girl who flee their civil war-ravaged Sri Lanka for France with the passports of a deceased family."I didn't want them to have any links to a post-imperial French situation," Audiard told reporters Thursday. "I wanted them to come from a long way away, and Sri Lanka was the other end of the Earth for me."
Posing as a family, the trio settles in a housing project outside Paris, but they soon find that even the other end of the Earth can also rage with violence.The titular character is played by a non-professional actor, Anthonythasan Jesuthasan, who, like Dheepan, immigrated to France. After serving as a child soldier for the Liberation Tigers of Tamil Ealam, he fled Sri Lanka for Thailand as a 19-year-old. In 1993, he found political asylum in France. "I came to France because at the time I was able only to find a fake French passport and not a fake English or British passport," said Jesuthasan. "It's a life full of adventure."
"Dheepan" sensitively depicts the experience of immigrants in France, which Jesuthasan could easily relate to. "Just as you see in the film, I encountered any number of difficulties when I first arrived in France," said Jesuthasan. "I was even chased by the police when I was in the streets." The film, among the movies vying for Cannes' top honor, the Palme d'Or, has been acquired by IFC and Sundance Selects for U.S. distribution.
  ****
Dheepan review – Tamil Tiger loose in the urban jungle makes powerful thriller
The new film from Rust and Bone director Jacques Audiard has a former fighter in the Sri Lankan civil war trying to make a new life in France with a fake family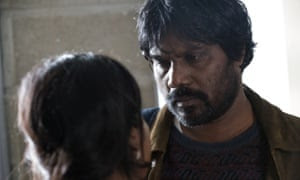 Antonythasan Jesuthasan as Dheepan. Photograph: PR
Jacques Audiard has made his name, in films such as A Prophet, Rust & Boneand The Beat That My Heart Skipped, for a kind of ecstatic violence of the soul. Dheepan, his new film about a former Tamil Tiger fighter looking for a new life in France, certainly has some of the director's trademark ferocity, especially in its final minutes, but it displays what I can only describe as dialled-down Audiard. Indeed, much of the time it even ambles, peacefully, with nothing much happening.
It begins with a short sequence in Sri Lanka: the civil war is over, the Liberation Tigers are burning their dead comrades' bodies and swapping fatigues for civilian clothes to try and melt into the general population. In a refugee camp, a young woman is looking for unaccompanied children: not for anything as gruesome as sex-trafficking or slavery, we discover, but to be part of a hastily thrown together fake family, to help one such fighter get clear of the battle zone and into Europe. The three of them, essentially strangers to each other, eventually find themselves in France, and we watch them attempting to adapt to the precarious new reality: negotiating their way through an immigration hearing, peddling tat on the pavements, scattering at the inevitable shout of "les flics!"…..  SEE http://www.theguardian.com/film/2015/may/21/dheepan-review-tamil-tiger-jacques-audiard-cannes-2015